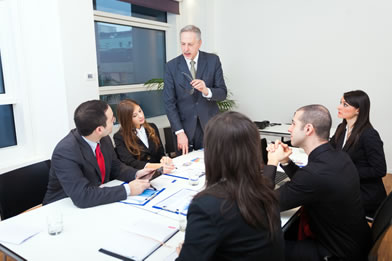 At DHA we take great pride in the wide range of HR training and consulting services we offer. Our training courses  include comprehensive HR for Supervisors programs, focused HR functional training for HR specialists or line managers, or both.  Examples include Employee and Labor Relations specialty courses addressing such subjects as the Fair Labor Standards Act, Pay Setting, the Family Medical Leave Act, dealing with problem employees, taking actions based on conduct or performance, preparing for third party proceedings, performance management, and being effective in a unionized environment, all areas of staffing including how to plan for and execute a RIF, supervisory and leadership development, pre-retirement planning, communications skills such as effective writing and public speaking, and a broad range of soft skills to include time management, providing feedback to employees, coaching, conflict resolution, problem solving, team building, and more.
We offer consulting on/off-site consulting services in many areas, to include mediation and facilitation, misconduct investigations, expert witnesses, support to bargaining teams prior to and during negotiations with unions, risk assessment reviews regarding compliance with the Fair Labor Standards Act, building or improving relationships between labor and management, and designing mentoring programs.
What We Do Best
Labor relations training and consulting with a focus on preparing management bargaining teams to enter negotiations with the right skill sets and confidence and basic and advanced labor relations for supervisors and managers and other who need to have a solid labor relations foundation in order to perform their duties. Let us know if you would like a list of references with contact information.
---